1. My little family – my gorgeous baby girl Amelia and best friend and boyfriend Jack are the most important people to me and make me so happy each and every day!
2. The rest of my family – my family is HUGE!! I am very close to all of my family and love to pop out and visit them regularly. There's my mum, dad, brothers (Harry,George&James), 5 aunties, 5 uncles, 17 cousins (including God-daughter) and my Nannie!
3. Ducklings!! – I bought Amelia 10 ducklings and they're the funniest little things!! Just watching them splash around in their bath and cheep away is enough to make anyone smile!!
4. Cleaning our little home! – One of the greatest pleasures in life is knowing you have a clean and tidy home to come back to after a long day/evening out!
5. Family time – Jack works every week day and is gone usually before 7 in the morning (which is still too early for my brain to function properly!!) so its lovely to have either one day of the weekend or both as family time! The past few weeks we have been out and about doing fun/random things like going to garden centres, visiting family or down the lake!
6. Mother/daughter bonding with Amelia – Even though she is only a couple of months old, if Amelia is in the right mood you can have an alright conversation with her!! (By 'conversation' I mean babbling and cooing!)
7. Designing Amelia's nursery
8. Baking – I love spending my spare time cooking up delicious treats for myself and Jack! All very fattening of course, but so tasty!!
9. Chocolate, muffins, cupcakes, cookies & custard!!
10. Evening cuddles with Jack and Amelia – Its lovely to wind down the day all snuggled on the sofa watching dull TV with my two favorites!
11. Shopping – Retail therapy or just plain old getting the shopping.. I just love to shop!!
12. Baby sales – In Cornwall there is a monthly 'Nearly New & Used' baby sale where I love to get low price clothes and toys for Amelia! My mum loves going too!!
13. Carboot sales – Slightly embarrassing to admit but it actually makes me quite happy getting out and walking around a carboot where I can get good deals on home decor and clothes!
14. Jack FINALLY coming home from work! – It can be quite lonely being at home with a new baby so when Jack gets home from work its surprisingly nice to have some adult company!! (The term 'adult' being used very loosely here!! haha)
15. Sunny days 
16. Chatting – Its so nice to just have a little natter and catch up with people you dont get to see as much as you would like!
17. Going for a walk – Getting the pram out and taking a little stroll around the village is such a nice thing to do when I have a random burst of energy! Its so refreshing and particularly lovely on a warm sunny day.
18. Steak & chips – Heaven
19. Being at the lake – On a sunny and hot evening its so nice being down at the lake just watching the fish splash around enjoying the weather also. I cant wait until the ducklings are old enough to swim around the lake too!
20. Tractors – My parents have a machinery business that have all the latest and biggest tractors and it is really quite cool driving them around!
21. Gardening – We only have a small garden made from pebbles so all of the flowers and plants are spaced around in little plant pots.
22. Taking hundreds of pictures of Amelia
23. Fresh sheets on a bed after having a bath or shower – There is nothing more refreshing than being washed and fresh; then climb into fresh, clean bed sheets also! Its just so refreshing and relaxing!
24. Bookers chicken breast – There is a shop in Newquay, Cornwall where I love that sells big packs of large chicken breast. Jack and I love tucking into these with some home made chips! They're so juicy and tasty and just 1 breast is enough to fill you up!
25. Reading blogs – Reading blogs was something I started doing early in my first trimester. When I was at work I was so tired I could barely stay awake so each day was spent in front of the laptop reaching young mum pregnancy stories. When on google, I came across a blog called Alice and Amelia http://newyoungmum.com/ . Since then, I have also been looking at another one written by Jack's relative called A Cornish Mum http://www.acornishmum.com/ 
26. Days out with mum – We don't tend to do anything especially exciting but I really like going out with mum as it gets me out of the house for once!
27. Hard work/ manual labour – There's nothing more satisfying than building up body strength through manual labour! Its very satisfying putting effort into doing something that actually makes you work hard!
28. Hoovering – I literally hoover every singke day. May be slightly obsessed??
29. Carp – This will definitely make Jack happy as carp are his obsession!! Since being with Jack, I have been introduced to carp fishing and every different colour carp there are. I love the different patterns and scale formations on them. My all time favorite is a linear
Here is a picture for reference: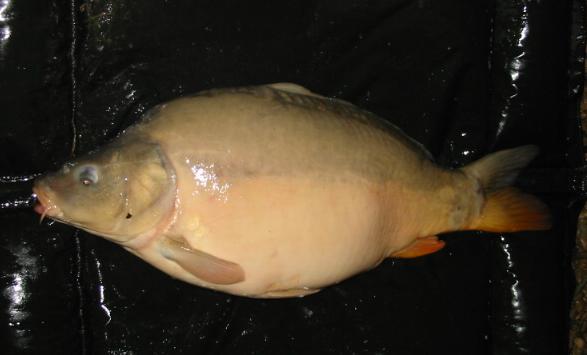 30. Christmas! – Christmas is such a magical time of year and the atmosphere surrounding the few weeks building up is so intense! Spending time with family and the giving and receiving of gifts is the best feeling ever. I'm not at all religious or a church goer, but I love the story of christ being born and and the tradition each different family holds on the day.
What are 30 things that make you happy? 
*****